When Apple decided to shelve the popular 3.5mm headphone jack in its new iPhone 7 as well as iPhone 7 Plus smartphones it caused a consumer outrage.
This prompted Apple to include a Lightning-to-3.5mm adapter included as an accessory in each of the iPhone 7 smartphones sold.
However, this adapter has its own disadvantages.
It's an extra load no one really wants to carry about and can therefore be quite easily misplaced.
You can't charge your iPhone 7 smartphone when you have the adapter plugged in and you are using your headphones.
Step In – The Fuze Case!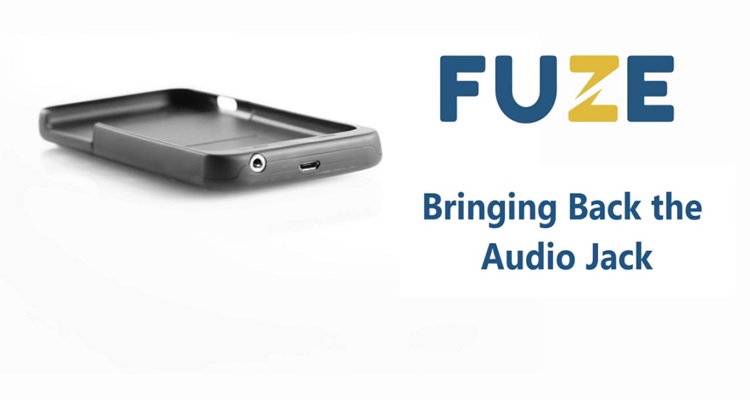 To address these two major disadvantages of the iPhone 7 smartphone 3.5mm headphone adapter, a new phone case which will seek to solve these problems is set to hit the market and brought to you by Indiegogo.
This case has been called the Fuze Case and it is a unique casing for your iPhone 7 and iPhone 7 Plus smartphones for the following reasons.
It will provide scratch, shatter and all weather protection for your iPhone 7 and iPhone 7 Plus phones.
It will bring back the 3.5mm headphone jack without any need for an adapter or even a dongle. Thereby making your phone-use experience less cumbersome and also ensuring that you are not at risk of losing the adapter due to having too many gadgets on hand.
The Fuze Case will also come with a Lightning port that allows you to plug your 3.5mm headphone as well as charge your smartphone at the same time.
The Fuze Case provides the iPhone 7 with a 2,400mAh integrated battery and a 3,600mAh battery for the iPhone 7 Plus.
The Fuze Case weighs 28 grams and has a thickness of 5mm.
Indiegogo has wanted to make the Fuze Case to have an extended base which would serve as a storage unit for the 3.5mm headphones. However, after producing a prototype and carrying extensive tests, it was decided to shelve the decision as the casing made the iPhone 7 and iPhone 7 Plus look and feel bulky as well as unattractive in its final design, appearance and use.
So the Fuze Case was modified to look and feel as simplistic as possible with a total weight of 28 grams and a thickness of only 5mm.
Funding Required
Indiegogo as mentioned earlier is looking to raise a total sum of $60,000 for the Fuze Case project, so far they have been able to raise a sum of $2,600 and this amount is steadily growing.
If you make a pledge of $49 you will be placed under the early bird tier and you will be on the top list of those that would be given the Fuze Case for both the iPhone 7 and iPhone 7 Plus smartphones.
You may want to tap into this opportunity and get to be amongst the early birds as the pledge of $49 could be more than a great deal by the time the product hits the market fully.